November has been a busy month all round at The Willows with visitors to the cottage and a flying visit down to Cornwall for a 50th Birthday.
So here we are at the end of Autumn and Winter is about to begin. I know we've had some very autumnal weather but mixed in with that we have been spoiled with some quite mild weather for the time of year. It's not often you can say that you were on the beach in Cornwall in your jeans and T'shirt on the 1st November is it.
So to my November reads.
This months reads were a mixture of Kindle and book.
As much as I like the convenience of a Kindle I still like the feel of a book.
With it being the month of remembrance I decided I would go for books that to remember those who have been involved in the WW1 and WW2 and those who are still involved with conflict today.
It's All About Treo -

written by Dave Heyhoe about his time as a dog handler in the armed forces and his bond with his dog Treo, who always came first. This was a good book for me to read now as my son chose not to tell me too much about what he did in Afghanistan in order for me not to worry, but sometimes that made it harder. I have now gleaned a lot about what he would of been doing out there and I am now glad he didn't elaborate too much. Dave Heyhoe has now left the armed forces and Treo retired from active service. He now lives with his fiance and at the time of writing the book they were expecting a baby and of course Treo is with them.
Soldier Wives -

Fiona Field is ex armed forces and now a full time novelist. I had high hopes for Soldier Wives and although it was a good read it certainly didn't have me gripped and in places it was a little too towiesk with Jenna's character. It may have been more suited to someone a little younger than my 51 years, I was left a little disappointed.
The Poppy Factory - Liz Trenow's fictional story of a young army medic struggling to come to terms with what she witnessed whilst in Afghanistan was brilliant. When Jess returns home and finds she cannot cope she turns to her mother. Her mother gives her, her great grandmothers journals to read. The journals contain her everyday thoughts on coping with a husband returning from the first world war.
At times you forgot that this was fiction and definitely worth reading.
The Military Wives Wherever You Are - contains 25 true accounts by military wives and at times you will require the tissues to be within easy reach. These are the same military wives who with the help from Gareth Malone went on to form The Military Wives Choir.


The Boy in Striped Pyjamas

- is John Boynes fictionional story of Bruno a nine year old boy who befriends a young jewish boy. Bruno's father is a high ranking officer in the German army and is in charge of one of the concentration camps. Bruno being a little boy doesn't fully understand what it is his father does or what a concentration camp is he thinks it is some sort of farm. The two boys come up with a plan for them to be able to play together and this plan will change Bruno's family forever.







Lest We Forget -

I had bought this book for D a few years ago, but I can't say that I ever remember him reading it. Somehow it ended up on my bookshelf and I decided to make it one of my November reads. I am so glad I did. it is a collection of memoirs from those who lived through and survived the first and second world wars. I chose to read a number of pages each day and with every story it made you appreciate just how much we take for granted now. If you know anyone who has an interest in the first and second world wars it would definitely of interest to them.
The Book Thief - Fiction - this one turned out to be completely different to what I had expected. Lisel is a young girl growing up in Nazi Germany. I had thought the story was to be how she rescued books for the Jewish people which were going to be burnt. I knew there would be more to the story than that but as the story unfolded it was almost like a Grimms Fairy Story that is the only way I can think of to describe it. It was brilliantly written and I really enjoyed it. I have since seen the film but thought the book was much better.
My return to school read for November was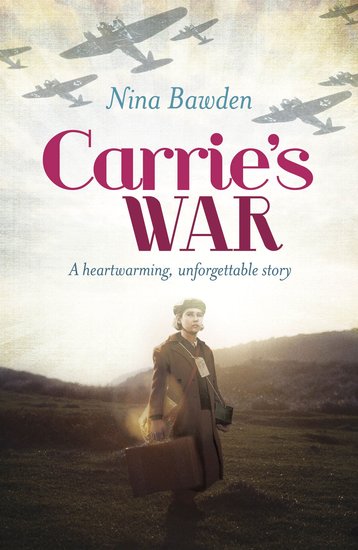 Carries War - Nina Bawden Fiction
The story begins with Carrie and her children on a train to Wales where Carrie will be returning for the first time in 30 years. Carrie and Nick Willow are evacuated out of London during the second World War. They are placed with Mr Evans and his sister Louisa. Their friend Albert is staying at Druids bottom with Hepzibah Green and Mr Johnny and Mrs Gotabed the sister of Mr Evans and Louisa. This is the story of their adventures during their time in Wales and is a lovely children's story.
If you never read this one as a child or you have a child age around 9 or 10 it would be a story for you to share.
As always I like to pick a book of the month from my reads and November has to be
The Poppy Factory - Liz Trenow
I look forward to seeing what you are reading next month as part of
The year in Books
project.

Mx